CAREER & Competence 2021
West Austria's largest job and
career fair for students, graduates
and (young) professionals
Date: 17. November 2021
Opening hours: 9:00 – 16:00
Location: Congress  & Exhibition Centre Innsbruck (Halls Dogana + Foyer)

CAREER & Competence – West Austria's largest job and career fair –
Recruitment and employer branding at the university location Tyrol
the CAREER & Competence- has been offering employers a professional platform for the past 12 years to get to know students, graduates and young professionals from the fields of economics, technology, natural sciences and the humanities from the University and universities of applied sciences in Tyrol.
With about 30,000 students, 125 fields of study and about 4,000 graduates per year, the University of Innsbruck represents a significant Austrian market for employers to find potential future employees. In addition to the University of Innsbruck, there are 7 other higher education institutions in Tyrol (Medical University of Innsbruck, UMIT – Private University of Health Sciences, Medical Computing and Technology, University of Applied Sciences MCI – Management Center Innsbruck, University of Applied Sciences Kufstein, University of Applied Health Sciences, Teacher Training College Tyrol, Ecclesiastical Teacher Training College – Edith Stein), which number about 10,000 students. The 8 Tyrolean higher education institutions form Campus Tirol.
Career fair highlights for employers
In order to present oneself as a top employer for employees with an academic education in western Austria, CAREER & Competence offers numerous services and benefits.
Online Company Profile on the C&C website
Access to the C&C online job exchange for 1 year
Print company profile in basics. Special supplement (circulation 243,000)
3 vacancies in the print JobWall of basics. Special supplement
Company presentation on the C&C blog
Placement of your job offers on the fair's JobWall
Chance to participate in the stage program
…
Top Performer – highly qualified students
Since 2007, the three best students from each course (at the Faculty of Business and Management) have been entered in the SoWi-Holding's Top Performer Pool. The Top Performers represent a pre-selection of highly qualified students whose achievements go beyond the requirements of their specific field of study. Top Performers distinguish themselves from their fellow students both in terms of subject matter and in terms of communication and are therefore sought-after dialogue partners among the participating exhibitors.
The CAREER & Competence is strongly advertised to this target group. As a premium partner, you also have the chance to get in direct contact via the SoWi-Holding's Top Performer Newsletter.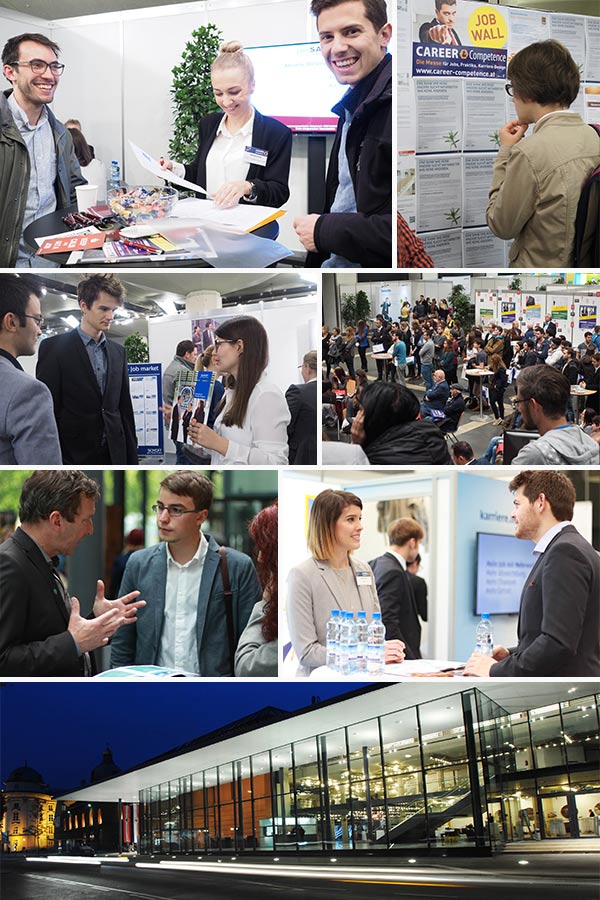 About the career fair visitors
In 2016, 1968 students, graduates and (young) professionals attended the 9th CAREER & Competence. Of the visitors, 25% were graduates / young professionals and 75% students, 40% of whom were to graduate in less than a semester. Through targeted marketing measures, the proportion of STEM students / graduates has increased to almost 30% in recent years, which has helped to meet the great demand for skilled workers in these areas. Present your company as an attractive employer to your target group and get to know qualified and well-prepared future employees.
Marketing and media cooperation
The CAREER & Competence is advertised at university sites in Tyrol with several flyer campaigns, focussing on the SoWi (social and economic faculties), the technology campus and the main university location. This ensures that there is a fair balance between the fields of study of the visitors at the fair. These measures are accompanied by the placement of some 100 posters at the universities and other student hotspots. In addition, from one month before the fair C&C is present at all important university campuses with mobile 16/1 sheet billboards.
In addition, all students at the University of Innsbruck are informed several times via newsletter about the CAREER & Competence and a separate Top Performer Newsletter is sent to a selection of highly qualified students. Additionally to these direct channels, numerous online marketing measures are set up and the advertisement of the fair via Facebook plays a special role in the process.
Through numerous successful cooperations with student organisations (e.g. AIESEC, Club Alpbach, GLOBART …) the fair can be advertised to specific target groups.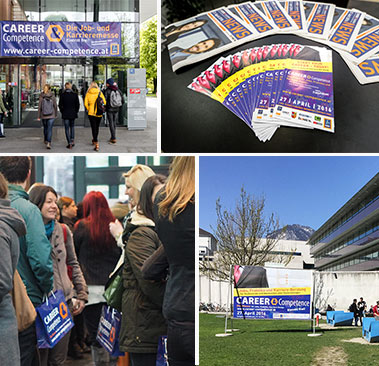 Media cooperation with basics. Media
With the newspaper basics. the CAREER & Competence has a strong partner which has a circulation of 243,000 copies delivered to every household in Tyrol every two weeks. One of the main topics in the journal is careers (and job offers), which is why the articles on C&C published there are particularly effective.
As early as 9 months before the fair, editorial contributions on the fair are published in regular intervals. In the intensive advertisement phase, short editorial profiles of the exhibitors are published and highlights of the fair are features. Depending on the media package, you have the opportunity to position your company here as an attractive employer.
Participation opportunities for employers
Would you like to present your company at CAREER & Competence on 17. November 2021? Then we will gladly provide you with details on how to participate and detailed information about the fair.
Or register right now for the next fair
Contact person / organizer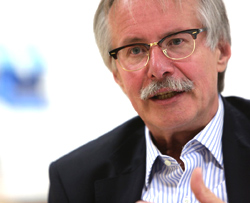 SoWi Holding
Association for the promotion of practical training and research at the Faculty of Business and Management of the University of Innsbruck
Office: Universitaetsstrasse 15, A-6020 Innsbruck
Fair: Congress and Exhibition Centre Innsbruck, Rennweg 3, A-6020 Innsbruck